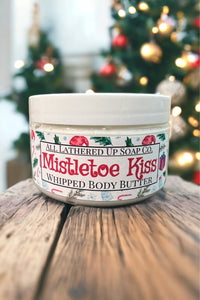 If Christmas could be bottled up this would be it. A blend of sweet orange, berries, light spices, and a touch of pine. 
A holiday BEST SELLER! 
Benefits: The most decadently moisturizing & anti-aging body butter you can pamper yourself with! Unlike your average moisturizer that contains a lot of water and likely synthetic ingredients, our body butter helps to strengthen skin tissue more deeply and eliminate dead skin cells while absorbing quickly into your skin. As an added bonus beeswax protects and creates a barrier that actually locks in moisture.
Directions: Just rub a small amount into the skin after your shower or before bed. Best when used after exfoliating with our face & body sugar scrub.
Ingredients: shea butter, coconut oil, sweet almond oil, jojoba oil, high oleic safflower oil, vitamin E oil, beeswax, paraben free/phthalate free fragrance
4oz jar