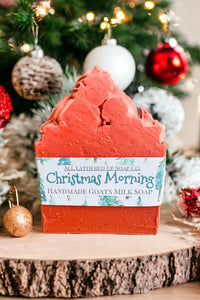 A Very Merry Fragrance!
The aroma of cheery hollyberry, fruity cranberries, red currants, juicy apples, and sprigs of fresh cut evergreens. 
Benefits: Goats milk soap offers a full spectrum of minerals and unique lipids that are beneficial for skin, and naturally occurring alpha-hydroxy acids that exfoliate and soften your skin as you wash. Our soaps have a creamy, luxurious texture, plenty of lather and are formulated to help your skin remain moisturized, calm and happy! 
The ingredients we use are very straightforward and our products contain NO PRESERVATIVES, PARABENS, PHTHALATES OR PETROLEUM PRODUCTS. Only fresh goats milk, coconut oil, tallow, olive Oil, safflower oil, sunflower oil, castor Oil, canola oil, naturally occurring vitamin E oil, sodium hydroxide (lye), fragrance, chromium oxide, polyester 3, acid red 92, titanium dioxide, iron oxide