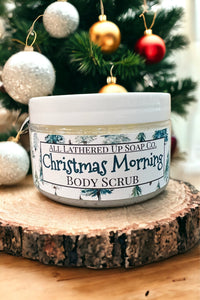 A Very Merry Fragrance!
The aroma of cheery hollyberry, fruity cranberries, red currants, juicy apples, and sprigs of fresh cut evergreens. 

Directions: In the shower, bath, or over the sink, gently massage over damp skin and rinse with warm water. After rinsing, lightly dab the skin with a towel and massage the oils into the skin.
Benefits: Sugar scrubs are the most natural way to soften, exfoliate, and even skin tone. They do not clog the pores, and are excellent for individuals who suffer from eczema and psoriasis. Scrubs enhance blood circulation which increases collagen production and skin cell regeneration to prevent wrinkles and other signs of aging. You're welcome!
Ingredients: coconut oil, granulated sugar, fragrance