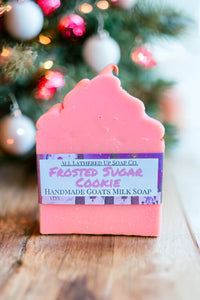 Smells just like a freshly-baked, buttery Christmas Cookie with frosting. So good!
Benefits: Goats milk soap offers a full spectrum of minerals and unique lipids that are beneficial for skin, and naturally occurring alpha-hydroxy acids that exfoliate and soften your skin as you wash. Our soaps have a creamy, luxurious texture, plenty of lather and are formulated to help your skin remain moisturized, calm and happy! 
This fragrance contains lots of vanilla, which turns soap brown. The tips and sides of this bar has some soft brown fading, but the bar is still very much a cute pink bar. 
The ingredients we use are very straightforward and our products contain NO PRESERVATIVES, PARABENS, PHTHALATES OR PETROLEUM PRODUCTS. Only fresh goats milk, coconut oil, tallow, olive Oil, safflower oil, sunflower oil, castor Oil, canola oil, naturally occurring vitamin E oil, sodium hydroxide (lye), fragrance, granulated sugar, Polyester 3, acid red 92, manganese violet